Forked Tongues: The Role of (Foreign) Languages in Literature, Film, and the Arts
2022 GCLR Graduate Student Conference 
Venue: Hybrid - The McCune Conference Room, located at 6020 HSSB, UCSB and Online 
Time
: Sunday, June 5, 2022, 10:30 am PST - 4:30 pm PST
Contact: Please email 
Rachel Feldman
 with the subject line "Forked Tongues"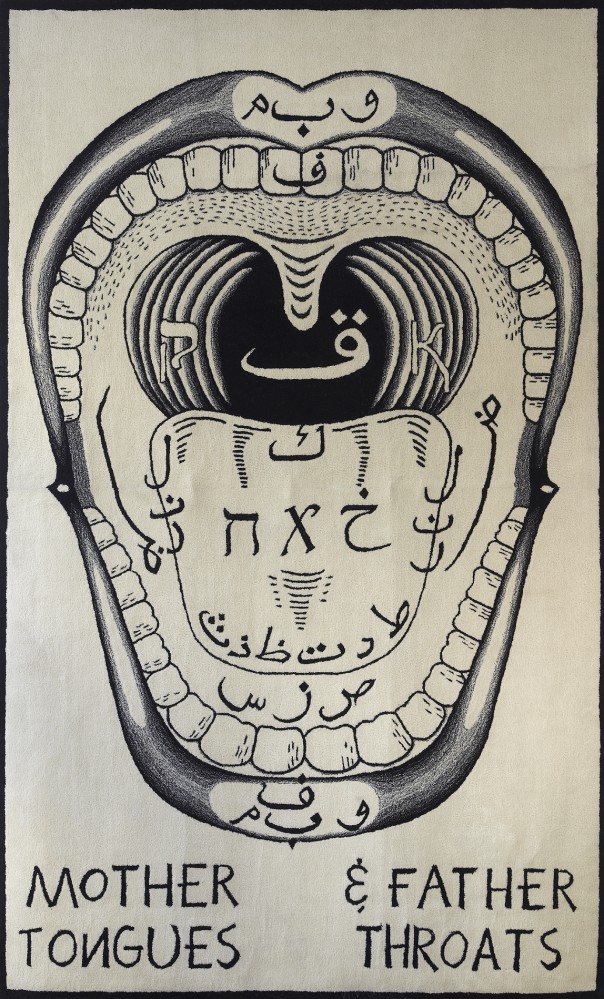 Slavs and Tartars. "Mother Tongues and Father Throats". 2012. Carpet. Image courtesy of Raster Gallery. 
"Languages" (1916) -  Carl Sandburg 

THERE are no handles upon a language

Whereby men take hold of it

And mark it with signs for its remembrance.

It is a river, this language,

Once in a thousand years

Breaking a new course

Changing its way to the ocean.

It is mountain effluvia

Moving to valleys

And from nation to nation

Crossing borders and mixing.

Languages die like rivers.

Words wrapped round your tongue today

And broken to shape of thought

Between your teeth and lips speaking

Now and today

Shall be faded hieroglyphics

Ten thousand years from now.

Sing—and singing—remember

Your song dies and changes

And is not here to-morrow

Any more than the wind

Blowing ten thousand years ago.
2022 Call for Papers:
As conversations surrounding linguistic diversity have become a central topic of global discussion, laced with calls for forms that transcend monistic or monolingual paradigms, the UCSB Graduate Center for Literary Research invites emergent scholars from a variety of disciplines to reframe their conversations with a focus on this ubiquitous topic as it has been interpreted in literary fiction, as well as within the arts. 
This conference asks its presenters to reconsider literary and artistic representations of "speaking with forked tongues" - from biblical allusions to the pervasive violence of linguistic suppression - and how these forms offer radical potential to disrupt existing and/or imaginary monolingual paradigms. How might envisioning the image of language as a diffuse, shifting, vaporous form - a "mountain effluvia" - allow for a more ethical approach to language, beyond fixed borders? 
If we acknowledge that the idea of "speaking with a forked tongue" is a pervasive idiom with questionable biblical origins, likely derived from the image of the serpent in the story of Genesis and its ability to use its forked tongue to persuade Eve (Chava) to eat of the tree of knowledge of good and bad, then the division that ensues -- between Eve and Adam, the first humans and their deity -- is cataclysmic. Diverse reverberations echo through the literature and art across the Abrahamic religious imagination as do theoretical readings that seek to reconsider the thematic through analysis, interpretation, and translation. Indeed, the theme of deceitful speech affixes itself to the gendered tongue, the animal tongue, the rhetorical "tongue", the child's tongue, and the tongue(s) of the outsider, or "foreigner". We therefore welcome papers that explore iterations of this motif through the lenses of rhetoric, children's literature, animal studies, postcolonial studies, feminist studies, visual studies, sound art, etc. 
At the same time, we bear witness to the image of the forked tongue as a dominant expression of linguistic division. This conference therefore encourages presenters to consider how the inherent violence of "splitting the tongue" might also reflect the violence of minority and indigenous language loss in institutionalized settings, especially for indigenous or immigrant communities, such as the genocidal impact of American and Canadian Indian Residential Schools, the many documented projects of Sovietization and Russification, or other, linguistically and otherwise, violent nation-building projects. 
In addition, we welcome papers devoted to exploring the role played by translingualism, poly-lingualism, multilingualism, non-nativism, and translation in literature, art, and film, from other lenses and angles. 
Conference presenters will be invited to submit their revised papers for possible inclusion as "Features" in our responsive graduate journal Exchanges, in which feature articles are followed by brief critical responses by editors. This dynamic format aims to engage our readers and develop conversations that began at the GCLR conference. 
The conference is organized by Rachel Feldman and the members of the GCLR Student Advisory and Editorial Board. We are currently accepting proposals from graduate students, postdoctoral, and emergent scholars from UCSB and other institutions who are interested in giving a 20-minute paper. Please send a title and abstract to gclr@complit.ucsb.edu with the subject line "Forked Tongues" by February 11, 2022. 
2022 GCLR Distinguished Keynote Speaker: 
Our distinguished keynote speaker is Dr. Yasemin Yildiz, Associate Professor of German and Comparative Literature at UCLA and author of numerous publications, including the award-winning book Beyond the Mother Tongue: The Postmonolingual Condition (2012). Dr. Yildiz's research focuses on twentieth- and twenty-first century literature and culture, with interests in literary multilingualism and translation, migration and transnational studies, minority discourses (especially Turkish-German and German-Jewish), memory studies, gender studies, and Holocaust studies. She is currently working on the book project Memory Citizenship: Migrant Archives of Holocaust Remembrance, co-authored with Michael Rothberg. In 2016, she was awarded the DAAD Prize for Distinguished Scholarship in German and European Studies for her work to date.