Forked Tongues: The Role of (Foreign) Languages in Literature, Film, and the Arts
2022 GCLR Graduate Student Conference 
*Updated Venue*: Online via Zoom. Register for link! 
*Updated Time*
: Sunday, June 5, 2022, 8:00 am- 5:00 pm PDT
Contact: Please email 
Rachel Feldman
 with the subject line "Forked Tongues"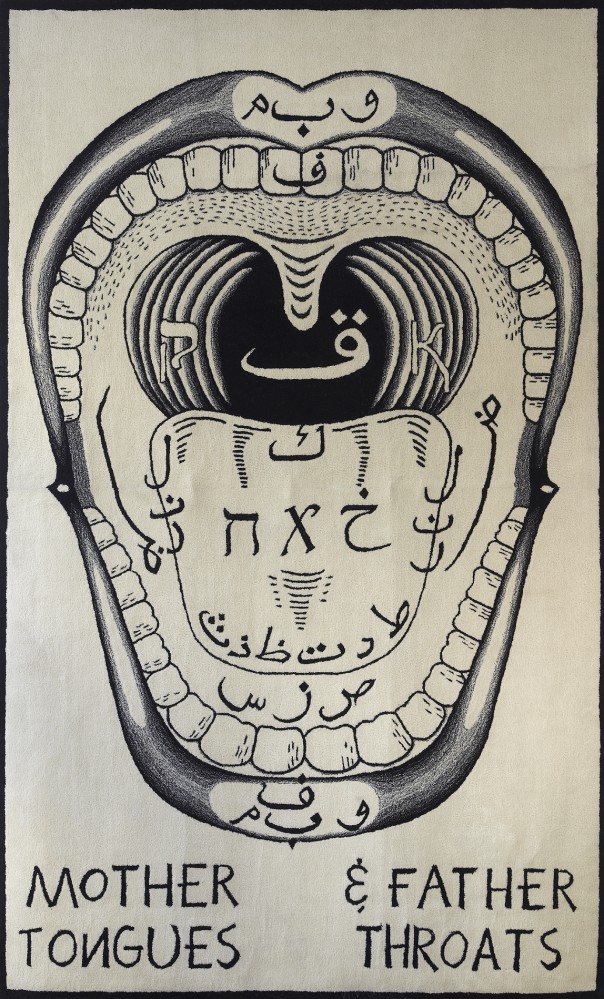 Slavs and Tartars. "Mother Tongues and Father Throats". 2012. Carpet. Image courtesy of Raster Gallery. 
2022 Theme: "Forked Tongues" 
As conversations surrounding linguistic diversity have become a central topic of global discussion, laced with calls for forms that transcend monistic or monolingual paradigms, the UCSB Graduate Center for Literary Research (GCLR) invites both emergent and established scholars from a variety of disciplines to come together for a one-day hybrid conference with the goal to reframe our conversations on this ubiquitous topic as it has been interpreted in literary fiction, as well as within the arts. The 2022 theme "Forked Tongues" is devoted to exploring the role played by translingualism, poly-lingualism, multilingualism, non-nativism, and translation in literature, art, and film, across disciplines.
Our diverse, international array of presenters will give papers which reconsider literary and artistic representations of "speaking with forked tongues" - from biblical allusions to the pervasive violence of linguistic suppression - and how these forms offer radical potential to disrupt existing and/or imaginary monolingual paradigms, allowing for a more ethical approach to theorizing language, beyond fixed borders. In addition to our keynote address and four virtual graduate student panels, the 2022 conference will also feature a special undergraduate panel.   
2022 GCLR Distinguished Keynote Speaker: Professor Yasemin Yildiz (UCLA) 
Our distinguished keynote speaker is 
Dr. Yasemin Yildiz
, Associate Professor of German and Comparative Literature at UCLA and author of numerous publications, including the award-winning book 
Beyond the Mother Tongue: The Postmonolingual Condition
 (2012). Dr. Yildiz's research focuses on twentieth- and twenty-first century literature and culture, with interests in literary multilingualism and translation, migration and transnational studies, minority discourses (especially Turkish-German and German-Jewish), memory studies, gender studies, and Holocaust studies. She is currently working on the book project 
Memory Citizenship: Migrant Archives of Holocaust Remembrance
, co-authored with Michael Rothberg. In 2016, she was awarded the DAAD Prize for Distinguished Scholarship in German and European Studies for her work to date.
In her keynote address, Professor Yildiz will be revisiting her thinking on the monolingual paradigm, providing an updated recap while considering how the dynamics of mono- and multilingualism have been shifting in the last twenty years, both in representation and in scholarship, and what questions we are faced with today specifically. She will then lead a group discussion on the topic with conference participants. 
*Updated Schedule of Events*
Our conference has moved to a fully virtual event, please check here for all updates to panel times! 
Welcomes and Acknowledgements  - 8:00 am PDT
GCLR Director, Professor Sven Spieker and GCLR Coordinator and Conference Organizer, Rachel Feldman (gclr@complit.ucsb.edu)
"Forked Tongues" Special UCSB Undergraduate Panel:  8:15 am - 9:30 am PDT 
Chairs: Rachel Feldman ( rachelfeldman@ucsb.edu ) and Lily Ortiz ( lilymortiz@ucsb.edu ) 
"Translations of Shibata Shōkyoku's The Museum of the Weird (Yōi Hakubutsukan 妖異博物館, 1963), Timothy Roberts (UCSB Japanese & Translation Studies), timothyroberts@ucsb.edu / Mentor: Professor William Fleming 
"Gorky's Torture Techniques in 'Old Izergil': Translation Methods and the Ethics of Responsibility," Vardui Sargsyan (UCSB Linguistics with Slavic Emphasis) varduhi@ucsb.edu / Mentors: Professor Sara Pankenier Weld, Arpi Movsesian, Rachel Feldman, and Dustin Lovett 
"The Translatability of the Fool in Armenian Literature," Ani Ordubekyan (UCSB), aniordubekyan@ucsb.edu / Mentor: Arpi Movsesian 
"The Translation Process of Japanese Folktales," Sage Hinskey (UCSB), sagehinsley@ucsb.edu / Mentor: Dustin Lovett 
"Writing with the Body as an Act of Reclamation in Cixous' "The Laugh of the Medusa," Delgado's "Our Language," and Yuknavitch's "Second Language", Lila Velasquez Singh (UCSB-CSS Writing & Literature),  lsingh@ucsb.edu / Mentor: Margarita Delcheva 
Break - 9:30-10 am PDT 
Keynote Address and Discussion - 10 :00 am - 11:00 am PDT
Professor Yasemin Yildiz (UCLA) yildiz@humnet.ucla.edu
Graduate Panel 1, Literary Multilingualism Focus: 11 am -12:20 pm PDT [2 pm EST/ 8 pm Berlin-CEST]
Chair/Respondent: Margarita Delcheva (delcheva@ucsb.edu) 
1A: "Visual Aphasia: Feeling Lost Around Words and Faces in Agnès Varda's Los Angeles," Tobias Rosen (Freie University, Berlin)  tobias.rosen@fu-berlin.de / Timezone: CET (Central European Time - Berlin) [20 min.] 
1B: "'I speak with language, sometimes she answers': Multilingualism in Barbara Köhler's MUSE, POLYTROP (2007)", Lena Grimm (University of Michigan, Ann Arbor) lkgrimm@umich.edu  / Timezone: EST
1C: "Colonialism's Forked Tongue: Multilingualism in Eileen Chang's Hong Kong Tales", Vanessa (Yee Kwan) Wong (University of California Irvine) yeekw@uci.edu / Timezone: PST
1D: "British Indian Multilingual Literary Modernity," Bennet Comerford (Harvard University) bec500@mail.harvard.edu / Timezone: PST 
Lunch Break - 12:20- 1:30 pm PDT
Graduate Panel 2, Nationalism and Language Focus: 1:30 pm - 2:15 pm PDT
Chair/Respondent: Reem Taha ( reemtaha@ucsb.edu ) 
2A: "Ethnocentrism vs. Multiculturalism in Khaleeji Musalsalat: Nationalism and Pluri-Arabism," Richard Nedjat-Haiem (University of California, Santa Barbara) richard_nedjat-haiem@ucsb.edu / Timezone: PST
2B: "Speaking the Same Language: Parallels in Freedom Rhetoric from the Yucatan Peninsula and the Thirteen American Colonies," Gregory Combes (CSUN) gregory.combes.903@my.csun.edu / Timezone: PST
Break - 2:15-2:45 pm PDT
Graduate Panel 3, Disability Studies Focus: 2:45 -3:45 pm PDT [3:45 pm MDT/MST, 5:45 pm EST] 
Chair/Respondent: John Schranck ( jschranck@ucsb.edu )
3A: "The 'Dragging Foot' of José Garcia Villa's Performative 'Comma Poems'", Katie Bradshaw (University of Southern California) kbradsh7@vols.utk.edu / Timezone: Mountain MDT/MST 
3B: "Tongue Tied: Stuttering and Making a Metaphor of Disabled Language", Jeff Careyva (Harvard University) jcareyva@g.harvard.edu / Timezone: EST 
3C: "Displaced Boundaries: The body and language in Michel de Montaigne's Travel Journal," Krystin C. Christy (New York University) kcc460@nyu.edu / Timezone: PST
Break - 3:45-4 pm PDT
Graduate Panel 4, Translation Studies Focus: 4:00-5:00 pm PDT [June 5th at 7:00 pm EST / June 6th 7:30 am - Macau/CST*] 
Chair/Respondent: Jordan Tudisco ( jtudisco@ucsb.edu ) 
4A: "Transcending Chineseness from Novel to Film: The Politics of Authenticity," Le Li (Binghamton University - SUNY) lli109@binghamton.edu / Timezone: EST/ No Recording*  
4B: "How does Transcultural Poetics Function? Translating Humanistic Spirit of Wenxin Diaolong from Hermeneutic Phenomenology," Shuying Liang (University of Macau) 1910691344@qq.com / Timezone: CST* 
4C: "The Transgender Translator's Task," Em Roalsvig (University of California, Santa Barbara) eroalsvig@ucsb.edu / Timezone: PST 
Farewells: 5:00 pm 
Farewells from Rachel, Sven, and the GCLR Advisory Board! 
Graduate presenters can check HERE for information about revising your conference paper for inclusion in the new GCLR graduate student journal Exchanges.