Event Date:
Thursday, May 10, 2018 -

9:00am

to

5:00pm
Event Location:
Alumni Hall (Mosher Alumni House)
The GCLR is proud to announce the schedule for its 5th Annual Interdisciplinary Conference: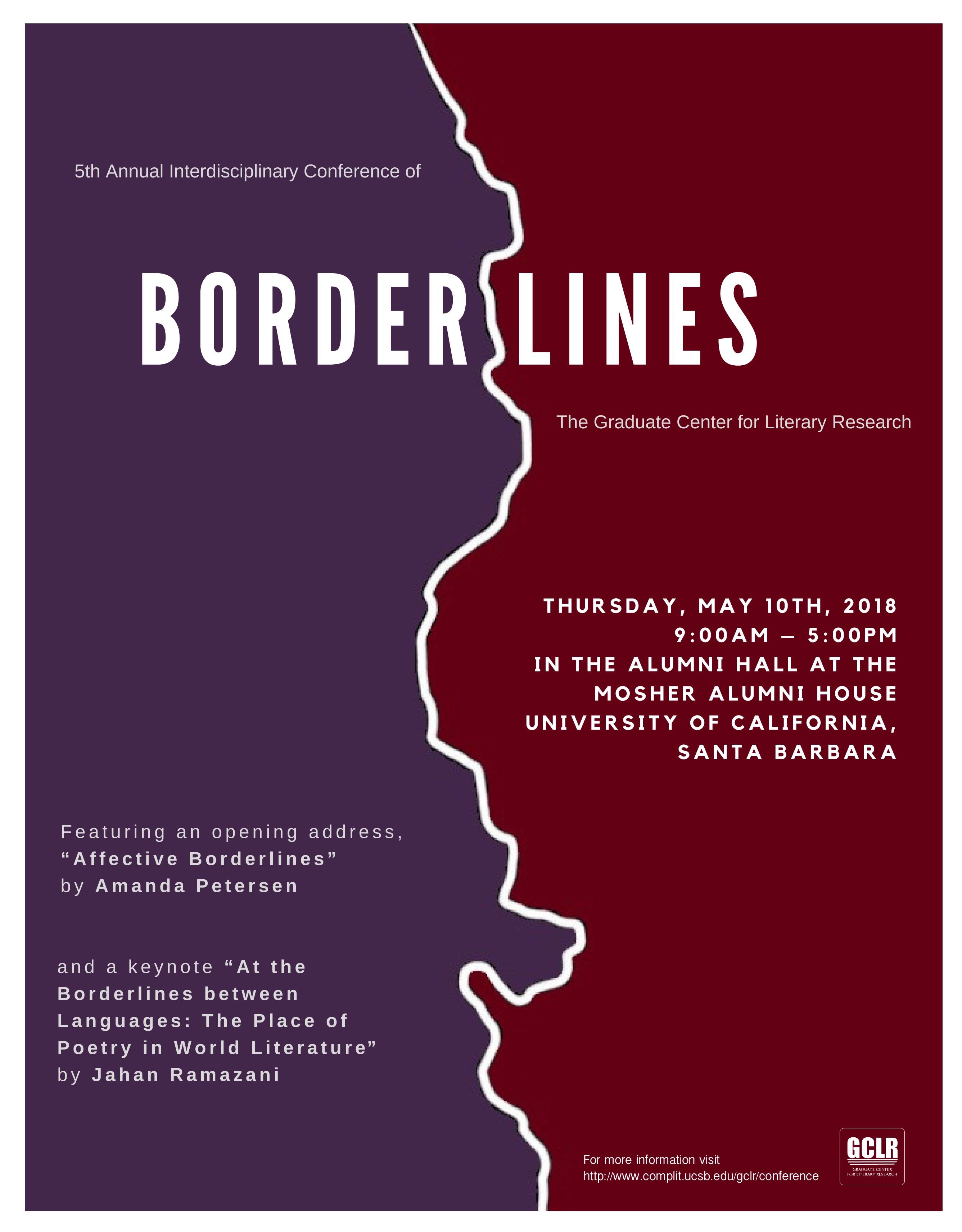 5th Annual GCLR Conference
Borderlines
May 10th, 2018
9:00AM – 5:00PM
Alumni Hall in Mosher Alumni House
9:00 – 9:10          Opening Remarks by John Majewski, Dean of Humanities and Fine Arts
9:15 – 10:00        Opening Address by Amanda Petersen: "Affective Borderlines"
10:05 – 11:20        Panel: New World Borders
Chair: Benjamin Chaffin
Alondra Sierra (UCSB) – "Three Dimensional Narratives: The Role of the Audience Protagonist Bond in Uniting Cultural Disparities"
Nathan Frederickson (UCSB) – "The Fantastic Quality in Racial Fantasies: How the Genres of Estrangement both Serve and Stigmatize the Marginalized"
Katie Wolf (CSUN) – "Decolonizing the Archive: Historical Records and Borders in Leslie Marmon Silko's Ceremony and Almanac of the Dead"
Cruz Arroyo (USC) – "A Feminist Reading of Latino Masculinity in the Plays of Marques and Mayer"
11:20 – 12:20        Lunch
12:20 – 1:35          Panel: Old World Borders
Chair: Arpi Movsesian
Wendy Sun (UCSB) – "Tracing Past Hospitality: Jewish Diaspora in Shanghai"
Margarita Delcheva (UCSB) – "A "Passport" of Postal Waves: Appropriation of Bureaucratic Symbols in Mail Art"
Cesar Osuna (CSUN) – "A Quixotic Endeavour: The Translator's Role and Responsibility in Bridging Divides in Its (Mis)handling of Translations"
Linshan Jiang (UCSB) – "Aporia in Translating Hiroshima through Three Movies: Hiroshima mon  amour, H Story and A Letter from Hiroshima"
1:50 – 3:05            Panel: Borders in the Eye, Ear, and Mind
Chair: Dalia Bolotnikov
Modje Taavon (CSUN) – "Convey Flames, Not Ashes: The Ethics of Translation and the Poetry of Nizar Qabbani"
Jillian Fischer (UCSB) – "Raw, Cold, and Dead: Phenomenological Listening to Distortion in Black Metal"
Sebaah Hamad (UCSB) – "Literary Colonialism and the Mirage of Fidelity: The Ethical Role of Translators"
Ricardo Friaz (University of Oregon) – "The Work of Memory, Death, and Music"
3:15 – 4:30          Keynote by Jahan Ramazani: "At the Borderlines between Languages: The Place of Poetry in World Literature"
4:30 – 5:00           Reception
Amanda L. Petersen (PhD University of Colorado at Boulder) is an Associate Professor of Spanish at the University of San Diego and is affiliated faculty with the Latin American Studies and Gender and Women Studies Programs. A specialist in Latin American women authors, her research interests center on the difficulty of representing issues of gender and violence, in particular in contemporary Mexican short narratives by women authors. Her lines of investigation include spectrality, gender, visual culture, and border studies. Petersen is the co-editor of Espectros: Ghostly Hauntings in Contemporary Transhispanic Narratives and a forthcoming volume on Mexican author María Luisa Puga.
Jahan Ramazani is University Professor and Edgar F. Shannon Professor of English at the University of Virginia. He is writing a book on poetry in a global age. His five previous books are Poetry and Its Others: News, Prayer, Song, and the Dialogue of Genres (2013); A Transnational Poetics (2009), winner of the 2011 Harry Levin Prize of the American Comparative Literature Association, awarded for the best book in comparative literary history from 2008 to 2010; The Hybrid Muse: Postcolonial Poetry in English (2001); Poetry of Mourning: The Modern Elegy from Hardy to Heaney (1994), a finalist for the National Book Critics Circle Award; and Yeats and the Poetry of Death: Elegy, Self-Elegy, and the Sublime (1990). He is editor of The Cambridge Companion to Postcolonial Poetry (2017); a co-editor of The Norton Anthology of Modern and Contemporary Poetry (2003) and The Norton Anthology of English Literature (2006, 2012, 2018); and an associate editor of The Princeton Encyclopedia of Poetry and Poetics (2012). He is a recipient of a Guggenheim Fellowship, an NEH Fellowship, a Rhodes Scholarship, the William Riley Parker Prize of the MLA, and the Thomas Jefferson Award, the University of Virginia's highest honor. In 2016, he was elected to the American Academy of Arts and Sciences.
May 3, 2018 - 12:42pm